Providing assistance to the displaced population in Syria
Since the start of the war in Syria, 6.3 million people have been displaced by violence and found refuge in other parts of the country. At the beginning of 2017, the conflict escalated again in the southern region of Syria, leading to an increase in displaced populations. Handicap International and its partners, in collaboration with other humanitarian actors, implemented distributions of food kits and essential items (blankets, mattresses, etc.) for displaced people experiencing a sudden degradation of their living conditions.
Murad et ses filles recevant des couvertures pendant la distribution. | Handicap International
As a truck filled with mattresses, blankets and ready-to-eat food rations makes its way through agricultural fields, a crowd starts to gather and waits impatiently for the vehicle's arrival. Murad holds his daughters' hands and looks at the truck driving towards them. This 40 year old farmer has seen his life considerably change over the past three months and is now completely dependent on humanitarian assistance. The truck pulls over by them and his two daughters go line up, waiting for the distribution to start. A relieved smile appears on their face when they are given blankets. "This is going to be very useful" says Murad. "We fled our city carrying the minimum items needed for our household. So we really need this sort of assistance", he adds.
"I still consider myself lucky"
At the end of March 2017, he and his family had to leave their house due to the constant bombing in their area. Since then, they have been displaced numerous times inside the country. "One week after we had fled, the place where we had found refuge was bombed too and we had to move again…" Murad's family lost most of their belongings in the airstrikes. "But despite what happened, I still consider myself lucky" he says. "There are millions of people who are displaced in Syria right now. Most of the shelters are overcrowded and some people don't even find a place to stay. At least, I managed to find a small house that I can rent with my two brothers…"
Handicap International's manager for emergency distributions in southern Syria comments: "People might sometimes wonder why giving out food parcels, blankets or mattresses is important in such a context… But it is life-saving for some of these families. Indeed, the distributions we carry out considerably decrease their level of vulnerability in such context. The situation in Syria doesn't seem to improve and we expect the conflict to continue for additional years. New people are displaced every day. They sometimes have to leave on foot, with no possibility to carry anything with them. And they usually do not have the financial means to buy the items we distribute..."
A stressful situation
In another location of southern Syria, a new distribution is taking place. Over 3,200 displaced families are receiving food kits. Abo Nabil grabs a box and puts it on a baby stroller. This father of six seems relieved. Two months ago, he and his family also had to flee the ongoing bombing in their city. "When the fighting intensified, our house was shelled by mortar. We had no choice but to leave.
Since then, so much has changed for us. We now live in an unfinished building, with other displaced families. I can no longer work and I simply do not have the money to buy food for my wife and children. This situation is particularly stressful… So I'm grateful for this food distribution."
The sound of bombing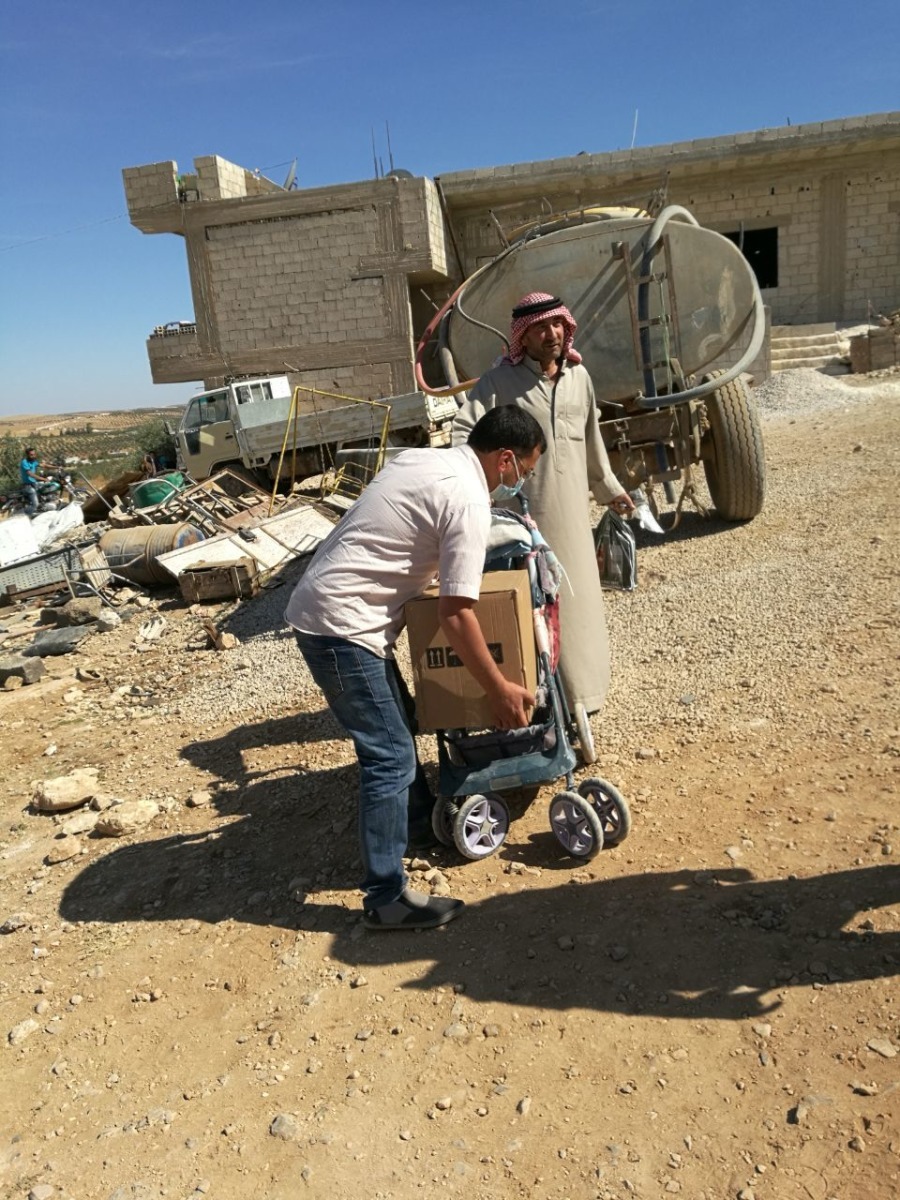 Abo Nabil receives a food donation. © Handicap International
"Most of the internally displaced people live in unfinished buildings used as collective shelters or even in tents that they set up on their own" explains HI's manager. "The majority fled their home leaving everything behind. They now depend on water trucks passing through the area, and on the food boxes we can donate to them." To add to the complexity of the situation, safety is still a major concern for humanitarian actors. "We often have to suspend distributions because of airstrikes… At times, we hear the sound of bombings just a few kilometers away. But we will keep on providing this type of assistance despite the circumstances. The situation of internally displaced people is critical and we have to address their daily needs", concludes the organization's project manager. Since the beginning of its emergency response in Syria in 2013, close to 200,000 persons have benefitted from Handicap International's distributions of food and non-food items across the country.