"I'm scared of being injured again", Mohammad 12
Mohammad, 12, lives in south Syria. In 2014, a car exploded as he was crossing the street, leaving him severely injured. Two years after his accident, Mohammad still needs physiotherapy sessions to recover from the fractures in his arm and leg. Handicap International is able to assist him with help from the EU's humanitarian aid and civil protection service (ECHO) and its local partner.
Mohammad and his physiotherapist | © Handicap International
Today, Mohammad is visiting a rehabilitation centre where he is being provided with physiotherapy sessions. His physiotherapist shares the same name as him. There's a close bond between the two Mohammad. Under the watchful eye of Kholoud, his mother, and Sedra, his sister, the boy enthusiastically executes the exercises the physiotherapist has taught him. Mohammad loves football and can't wait to recover fully from his injuries, which have already had a huge impact on his life over the past two years and still prevent him from playing his favourite sport. Like six million other children in Syria, Mohammad has been directly affected by the conflict. And like six and a half million people in Syria, Mohammad was forced to leave his hometown. Since his father died of cancer just after the start of the conflict, there are only three people left in his family today: him, his mother and sister.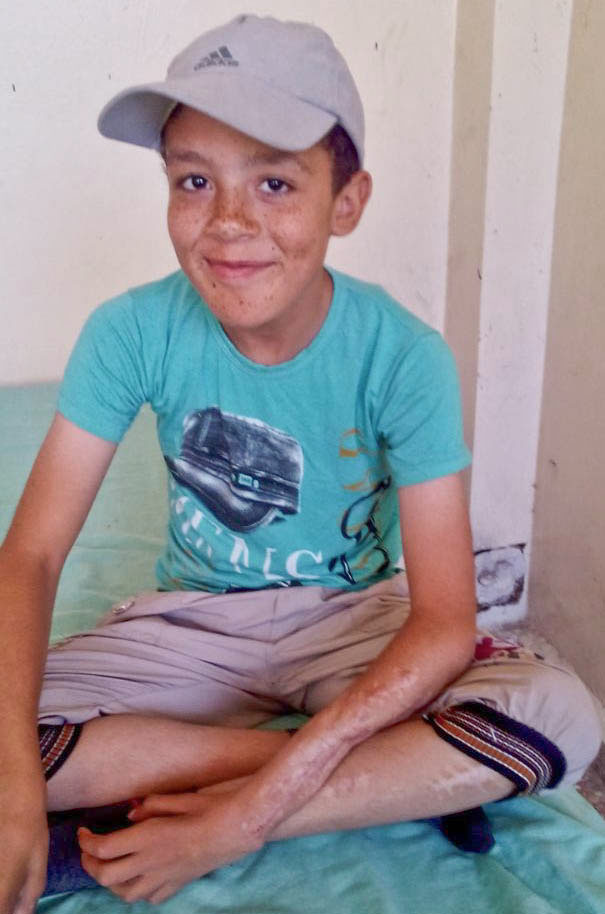 "I just hope that the best years are yet to come for my children and our country," says Kholoud as she watches her son during his physiotherapy session. Mohammad's mother has done everything possible to ensure that her son can access medical care, even though their situation makes it difficult for them to travel to the centre. "Sometimes it takes more than an hour to get here," she explains. "I don't have enough money for a taxi. Since my husband died, we don't have any income. So when we need to go to the centre, we wait for a car to come along the road in our village, and we ask if they can take us there. But not many people live here: it's very insecure because we're not far from the front lines."
Despite the family's issues, Mohammad seems happy to stand up. Since he started his sessions, he can move his hand and leg again. The physiotherapy sessions also allowed Mohammad to attend school again. "After my accident, I had to have several operations and I couldn't go to school any more. I'm really happy I can go to school again now. But there are far fewer students than before because a lot of us are refugees or displaced people... There are also fewer teachers and fewer text books" he says.
Although he is smiling, Mohammad still seems traumatised to a certain extent. "I'm scared of being injured again," he admits as the session comes to an end. In addition to physiotherapy, Handicap International, with the help from its local partner, provides people with psychosocial support to give them a chance to talk openly about their emotions and situation, in Syria and in other countries in the region. Through these activities, the organisation aims to provide an assistance that is as comprehensive as possible to the Syrian population affected by this ongoing conflict, whether they are displaced inside Syria or living as refugees in neighbouring countries.