Coming to the aid of tsunami victims
A tsunami struck the centre of the Indonesian archipelago a few days ago, killing more than 1,200 people. As HI's teams prepare to help its victims, Pauline Falipou, one of HI's emergency physiotherapists, who provided assistance in the wake of the earthquake in Nepal in 2015, explains the rehabilitation needs of people in this type of emergency.
Pauline Falipou, rehabilitation advisor at HI, is a specialist of emergencies | © HI
What are the needs of people affected by a tsunami?
We're dealing with two disasters in Indonesia - an earthquake and a tsunami. The mortality rate is usually high in this kind of situation - 1,200 people have already died in Indonesia - since the majority of people die from drowning. But we can also expect to see a lot of injuries - wounds, fractures, head injuries and lung infections - because the people rescued from drowning may have swallowed contaminated water. We need to take urgent action in order to help the injured.
What emergency rehabilitation actions does HI take?
At the initial stage, HI works in hospitals, which are saturated with injured people. Depending on the sort of injuries and traumas we're faced with, we work with emergency medical teams to ensure the best possible care for patients.
We help people rescued from drowning to bring up any contaminated water they may have swallowed, by showing them exercises to move secretions up their lungs and to clear them from their body.
For fractures and head injuries, we need to provide rehabilitation care immediately after the operation. We use our expertise to perform the initial rehabilitation procedures, and provide technical assistance, such as a wheelchair and crutches. It is very important that the patient starts to move around as soon as possible in order to avoid functional disabilities later on.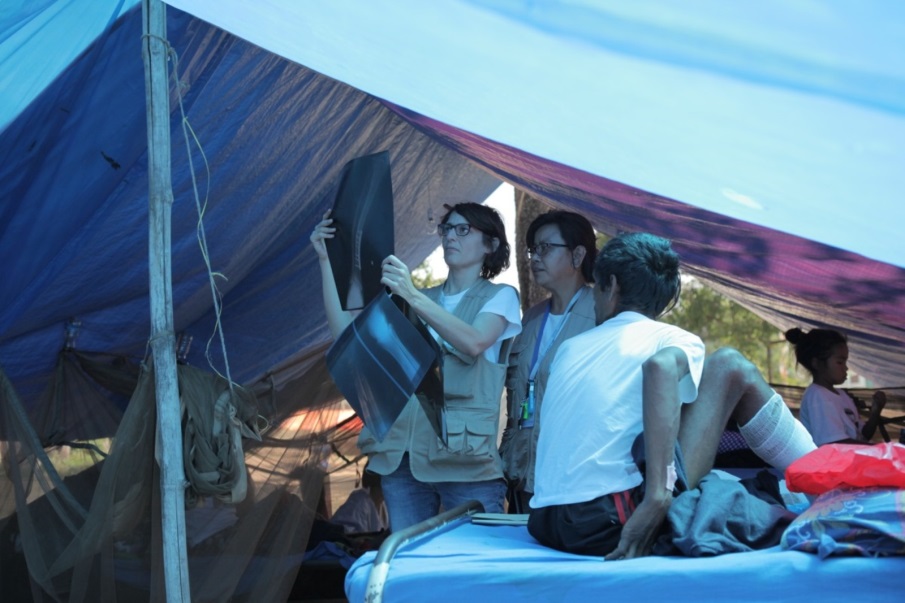 Pauline Falipou, rehabilitation advisor, during HI's response in Nepal in 2015 | © HI
HI also provides psychological support. What does it involve?
We never work alone, but always in conjunction with psychologists, psychosocial workers and local caregivers.
The main challenge, when hundreds of people have been injured, is to help them deal with their trauma, and the experience of seeing their loved ones die. For example, during earthquakes, like the one I experienced in Nepal, you come across children who have had limbs amputated, and others with spinal cord injuries who can no longer walk.
These are very difficult situations to cope with, and people need to go through a period of mourning and to accept their new physical condition, for which they will require psychological support as well as rehabilitation care. At the moment, we're assessing the situation to better understand the injuries and trauma experienced by survivors and thus offer a response that best meets their needs.
---
HI has worked in the country since 2005, where it regularly provides support to victims of natural disasters. Its members organise disaster prevention workshops and workshops to improve community resilience.